I enjoyed a perfect start to my day this morning. We decided to put on a special surprise breakfast for our Form 8's to celebrate their recent achievements and award the Head Girl, Head Boy and Sports Captain badges. Due to Covid, it was not possible to present these last term.
Spring Term prefects: Head Boy: Theo S. Head Girl: Bea W. Sports Captains: Holly K. & Harri W.
Summer Term prefects Head Boy: Henry B. Head Girl: Poppy S. Sports Captains: Will S. & Connie V.
Mrs Salisbury entered Form 7 and 8 in the UK Maths challenge and presented the certificates.  Special congratulations to Henry B. in Form 8 who not only achieved a Gold certificate but was also best in school. Henry and Meggie have qualified for the next round, the Junior Kangaroo, which takes place on 15th June. This is just a day before their residential. Congratulations to Form 7s Charlie D. who achieved a silver certificate. He can be seen photographed with Mrs Salisbury and the Form 8 Gold, Silver and Bronze winners.
Gold winners: Henry B. Meggie W.
Silver winners: Katie S.
Bronze winners: Alexandra H. Bea W. Eddie W. Harri W.
Mr Vanburgh has been teaching Greek dancing to senior prep this term. On Thursday he held a dance competition, judged by Mrs Nolan-Stone. It was very entertaining and after a hotly contested dance-off, Form 6 were announced as the winners!
I was delighted to see the new bike shed going up this week. It was kindly donated by our PTFA. It is already used by staff and pupils and photographed with their bikes in situ are Mrs Baker and Will S. We will be running a 'bikeability' course to encourage other children to cycle to school.
To raise awareness for Mental Health Awareness Week, Mrs Smith launched a photography competition with the theme 'Connecting with Nature'. She tells me we had 27 excellent entries and everyone who entered will receive a certificate. Judging was difficult as you can see from the photos but prizes were awarded as follows:
Senior Prep
Congratulations go to joint winners: Thomas E. (Form 7) for his close up of blades of grass with dew on them and Izzy S. (Form 7) for the photograph she captured of a bird eating a single seed from a bird feeder.
Runner up in this category goes to Will S. (Form 8) for the photograph of the incredible wheelie he performed.
Junior Prep
Congratulations go to Aria (Form 3) for her inspired film about bees.
Runners up in this category go to Scarlett (Form 4) for her video showing her feeding a Robin from her hand and Georgiana (Form 4) for her video about being out and about in Dorset.
We were very excited to be back playing fixtures this Wednesday with Castle Court. Our Head of Games, Mr Willemse, is keen to get the sports reports back up and running. You can download the match reports via the button below.
I would like to thank Mr Ian Jefferis, school Governor, for generously giving up his time this morning to the Form 8's.  The teams had an opportunity to discuss and practice their Lions' Lair projects.  The Drawing Room was alive with formal presentations and feedback sessions.  We look forward to the finalised presentations later next half term.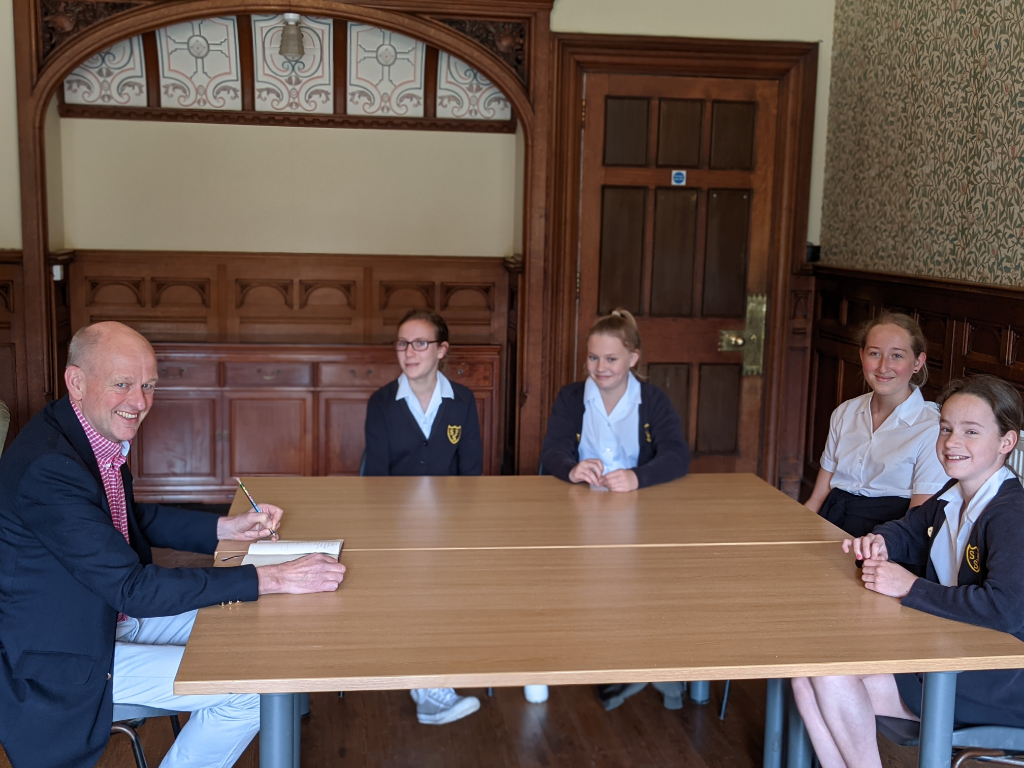 I have just had a quick break to check the weather app. Half term week is showing 21 degrees and sunny weather which is amazing. The children and staff all deserve a well-earned rest. The last weeks of summer are always crammed full of sports, trips, presentations and activities, so plenty to look forward to!
Nancy Sewed